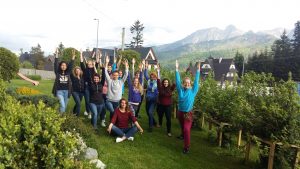 Yoga in the Mountains. March weekend with Yoga in Tatra. 
March 13-15, 2020
Treat yourself to this time off with profound relaxation and the strengthening and purifying  practice of Yoga, meditation by the fireplace, fragrant and delicious meals.
Time for walks  in the valleys along mountain streams or on trails with panoramic views on the Tatras, for therapeutic bathing in hot springs.
Fresh air, beautiful surroundings, salt baths, properly selected meals, and of course ginger tea will be the perfect accompaniment to our practice of Yoga  leading to overall strengthening and stimulation of inner balance.
In Chochołów, about 10-minute drive from our house, are "Chochołowskie Termy"- Chochołów Thermals, a complex of 11 pools with hot spring water, mineral pools, salt caves and saunas. This is an additional attraction for all those interested.
We invite both beginners and those who wish to deepen their practice of Yoga to join us. We will be a small group of people wiling to relax and rest. Please do not use cellular phones in group gatherings such as meals, gatherings by the fire, and yoga sessions.
Location and address
A big, comfortable house with a fireplace, located in the beautiful area at the foot of the Western Tatras. 2-3 persons to a room with a bath. The whole house is reserved exclusively for our use.
ul. Nędzy Kubińca 221,   666 Kościelisko-Szeligówka, 34-511 Kościelisko
Programme:
We start on Friday with Yoga practice at 6 p.m. followed by dinner at 7.30 p.m. The programme finishes with Sunday dinner around 5 p.m.    Daily practice: asanas, pranayama (breathing exercises), meditation and deep relaxation, Yoga Nidra.
Schedule
Friday:
4-6:00pm Time to check in at the house
6-7:15pm Yoga session
7:30-8:30pm Dinner
8:30pm Group gathering by the fireplace with ginger tea & free time.
Saturday:
7:30-8:00 Meditation
8:00-8:30am Morning tea by the fire place
8:30-9:45am Yoga session
10:00-10:30am Brunch
10:30am-5:30pm Free time
5:30-6:00pm Dinner
6:00-7:00pm Free time
7:00-8:30pm Yoga session: Pranayama & Meditation
8:30pm Group gathering by the fire place with ginger tea or free time.
Sunday:
7:30-8:00am Meditation
8:00-8:30am Morning tea by the fire place
8:30-9:45am Yoga session
10:00-10:30am Brunch
10:30am-4:00pm Free time
4:00pm-4:30pm Dinner
5:00pm Checkout
Staff
Yoga and meditation lessons: Katarzyna Stryjniak-Erickson, certified Yoga teacher and Ayurvedic consultant.
Price
590 PLN comprehensive price. This includes accommodations, meals, and Yoga lessons.
Early birds! Reservation made by March 13  get a special price of 495 PLN!
Reservations and payments
Reservation and payment of 250-PLN deposit should be made by 3 of March at the latest. Payments can be made:  Directly to Yoga International, ul. Św. Marka 34  or by bank transfer to the following account: Yoga International, Bank Pekao SA number: 87 1240 1431 1111 0000 10480274       Any unpaid balance is to be paid on the first day of the retreat.
For additional information: Phone +48 692 41 41 47 or email: office@yogainternational.com.pl
How to get there   
Bus – to Zakopane (main bus terminal); then by minibus to Kościelisko (bus stop by the Karczma Polany Restaurant)
Car – from Zakopane to Kościelisko or from Zakopianka by way of Czarny Dunajec, Chochołów, and then Kościelisko.
What to bring            
Yoga mats, appropriate clothing, comfortable footwear (including slippers), swimsuit (for thermal baths).
Ta strona zawiera również tłumaczenie na język Polish.